It's Time to Develop Your Business Skills
This course is ideal for those of you who know the foundations of the business world and are ready to dive into the specifics of it all. Or maybe you've done everything right and checked off all the "steps to launching a business" boxes, but you're still not playing at the level you want to be at. What gives?!
We've designed this course to guide you through in-depth lessons on various business and personal development topics, because succeeding in just one of these areas doesn't lead to growth, and business and personal success aren't exclusive. You can have both. You SHOULD have both.
This isn't one of those courses where you're given mountains of information that doesn't even end up being useful and are then left to figure it out yourself.
We want you to practice what we preach.


And we're confident that our educational method will inspire you to reach new levels of thinking and implement a new approach to business and life.
Personalized Support
From Our Team
Our goal at OWB is to provide personalized education based on each student's needs combining the best benefits from both in-person and online education.

As you submit your homework, you will be receiving evaluation as well as mentorship, and guidance through personalized video or text messages.

We offer the unique opportunity for personal feedback, and this benefit is crucial when it comes to building your business. We will always be there for you, every step of the way!
In the course you are going to take
THE BUSINESS PATH
but also
THE PERSONAL DEVELOPMENT PATH
This course isn't a compilation of "nice-to-know" lessons that will leave you wondering how exactly you're supposed to implement them into your life. But rather, it's a system, a whole educational method that will inspire a new level of thinking and fresh approach to your business and personal life.
CURRICULUM
GROWTH
Growth is the result of pushing our boundaries and stepping out of the comfort zones we've built for ourselves. It's what happens when we aspire to reach our personal best.
Personal Development - 23 Lessons
Lofty daydreams or "pinch-me-is-this-real" reality?

The choice is always yours, so invest your efforts wisely
More than 50 lessons on business and personal development within 12 modules

Actionable tasks (homework)

Access to the private chat with curators and classmates

One-on-one curator support for your homework

Membership in the "women in business" movement
Lifetime Accces
$495
ENROLL NOW AND CHANGE YOUR LIFE
Reprogram your mind
Work on sales funnel
Learn about finances
Work on touchpoints
Utilize effective marketing
Implement CRM in your business
Make your business work for you
Balance your business and personal life
ENROLL NOW
Our promise to you:
We will do everything we can for you to thrive in life as well as in business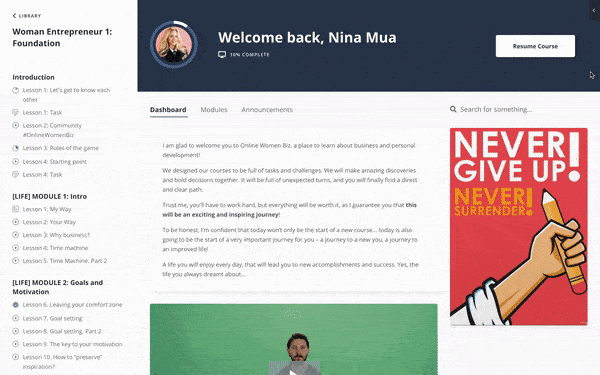 THIS COURSE IS NOT FOR:
❌ People who don't want to take action to improve their skills.
❌ Those who looking for a "make million dollars quick" program.
❌ People who want to pretend they're somebody else.
❌ Those seeking to do the least amount of effort.
❌ People who consider themselves advanced entrepreneurs.
❌ Negative people.